Uganda being a developing country, has scarcity of clean and safe water.Kabira Community Development and Child Support Organisation (KACODE)  helps communities to access clean water by renovating and constructing spring wells, hand dug wells, deep and shallow bore-wells and by supplying equipment to harvest rain water.
On sanitation, majority of the community members use pit latrines. However, latrine coverage in Uganda is very low. KACODE helps community members to dig pit latrines. The organization also provides communities with poles and slabs. We also conduct community sensitization on the safe water chain, importance of hand washing and the maintenance of good hygiene.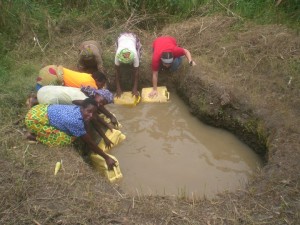 The major challenge still remains limited and lack of a cesspool emptier to remove human waste from the emptable latrines.
Our organization therefore calls   upon any kind hearted individuals, donors, churches / organizations to help or support the water, Sanitation and Hygiene Improvement in the rural areas of Maanyi subcounty, Mityana district where we operate.